You can buy the products from the MUMMUAH.COM website using the following payment tools:

Bank transfer

Payment can also be made by bank transfer based on the proforma invoice, the delivery of the products will be made after the entry of the amount (total value of the invoice) in our account. The data required to make the payment by bank transfer are:

SC WRAP LAB SRL
VAT 41949275
J12 / 4533/2019
Headquarters: CLUJ-NAPOCA, CALEA MOTILOR NR. 20-22, AP. 21
Bank: Banca Transilvania
IBAN Account: RO88BTRLEURCRT0530502201

Online payment via debit/credit card

No commission is charged for making payments on MUMMUAH.COM. The data on the card is processed exclusively on MobilPay secure servers.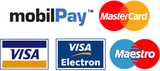 All online payments made on MUMMUAH.COM benefit from the 3D Secure, Verified by Visa and MasterCard Secure Code security protocol. MUMMUAH.COM does not have access to the card data, these being processed directly by the authorized integrator of secure card payments. MUMMUAH.COM does not request or store any details regarding your card. A MUMMUAH.COM representative will never ask you for information about your card in any communication: e-mail, telephone, on a page from www.mummuah.com etc. If this happens, please contact us immediately.